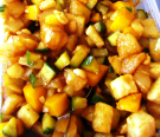 Raw Mango, Pineapple & Cucumber Salad
The flowering of the gulmohar plant, the warm scent of neem flowers and the tangy taste of raw green mangoes are all synonymous with early summer. This dish is so simple that even children can try their hand at it. It makes an excellent appetizer or side dish and blends well even with yogurt. Rich in folic acid, beta carotene, vitamin C and fiber.

Caution: High in natural sodium so people with hypertension and diabetes should restrict intake.